The second Friss Kakas Animation Film Festival ends on a high note
This year, once again, there was a great interest in MOME diploma films and animations by MOME graduates. Exciting professional programmes, special presentations on animation career opportunities, Grafix-fair: The Friss Kakas Animation Film Days have come to a close.
At the Friss Kakas Animation Film Days, co-organized by MOME Anim and the Friss Hús Budapest International Short Film Festival, MOME's diploma films as well as animations by alumni of the university were presented on the big screen on the 6th and 7th of October at Toldi Cinema in Budapest. Just as before, this year's selection of MOME Anim students and creators was of great interest to the public. The premiere screenings of the diploma films on Saturday were followed by a reception attended by many representatives of the animation trade.
The majority of the MOME diploma films presented this year will embark upon their festival journey following the Friss Kakas Animation Film Days. Domonkos Erhardt's "From the Corner of My Eyes" will continue its festival tour after receiving a Special Mention at the Berlinale. Zénó Mira's "Fox Tossing" after being screened at Annecy, the world's most prestigious animation festival, will be represented at the Oscar-qualifying Black Nights Film Festival in Tallinn in November. Tamás Ivády, director of "Legacy", was awarded the Dargay Prize this year. Two diploma films, Bence Hlavay's "I Would Eat It If I Could" and Júlia Tudisco's animation "Children of the Bird" were shown to the public for the first time at Friss Kakas.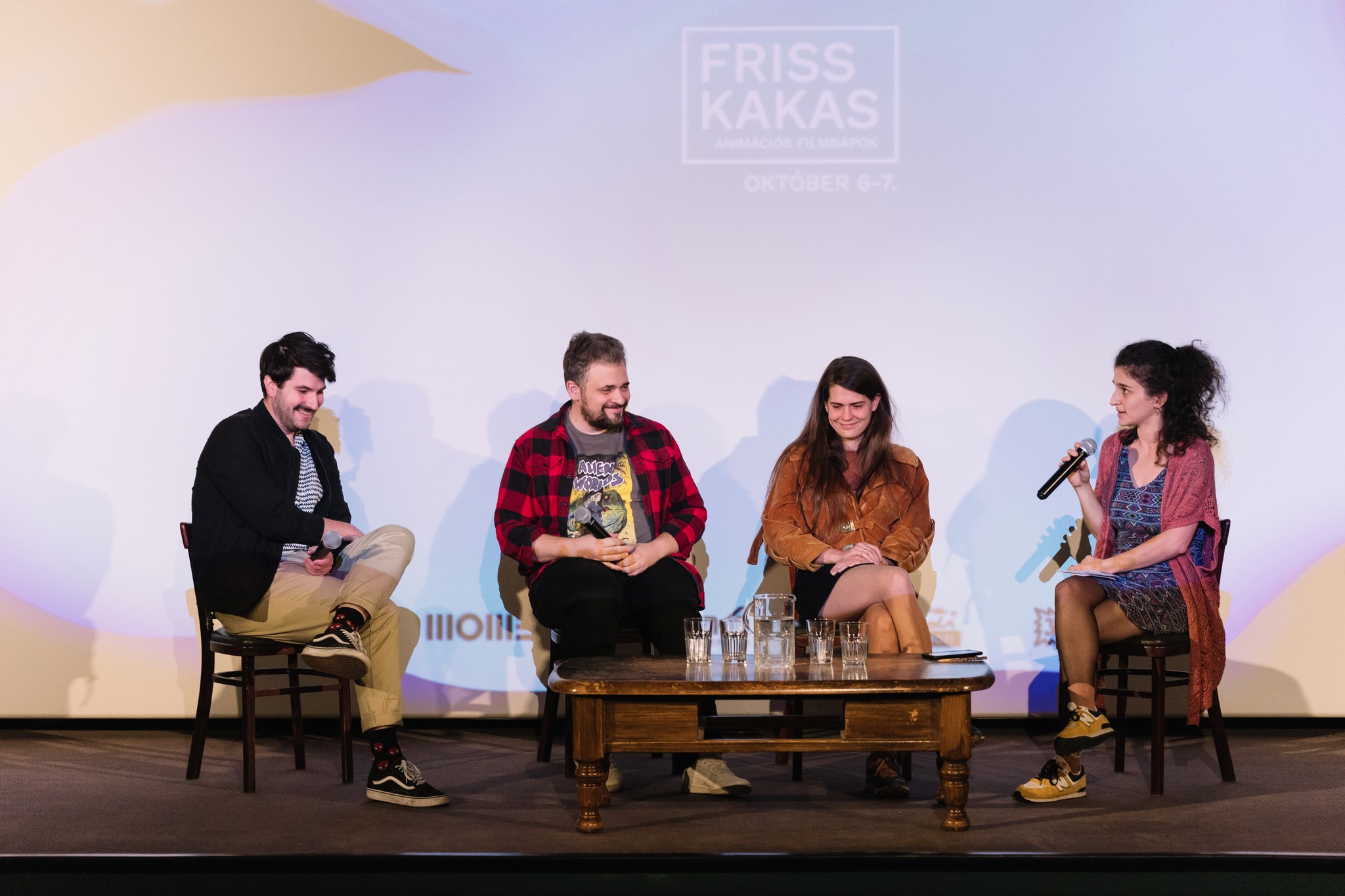 Domonkos Erhardt, Miklós Felvidéki, Petra Marjai and Lilla Gregor at the Comic book and Storyboard discussion.
Friss Kakas introduced several new additions to its programme in 2023: the ARTIST TALK programme featured former students and other professionals presenting their career paths, giving visitors an insight into the professional opportunities that await them after completing their art studies. Several doors are open for graduates: the presentations by Boglárka Ászity, Márk Juhász and Juli Farkas highlighted animation visual design as one possible career path. Balázs Sabransky, Barna Nemes and Tamás Beregi gave a fascinating presentation on their journey in game design, immersive storytelling and game research. Levente Sipos, Zsolt Bordos, Balázs Kerek presented VFX, CG and video mapping possibilities. 
Many graduates have become comic book and storyboard artists after completing university, on which presentations were held by Domonkos Erhardt, Petra Marjai and Miklós Felvidéki.
Participants gained insight about international successes and the future of Hungarian animation in a discussion by the Association of Hungarian Animation Artists (AA1 ) and the Hungarian Animation Producers Association (MAPSZ), where successful producers and creators, including Réka Temple, the producer of this year's Hungarian Oscar nominee, "Four Souls of Coyote", were invited to a discussion. Multiple award-winning animation directors Éva Darabos, Bálint Gelley and Réka Anna Szakály talked about the paths their films take internationally and the opportunities that await them, as creators in Hungary after a production is finished.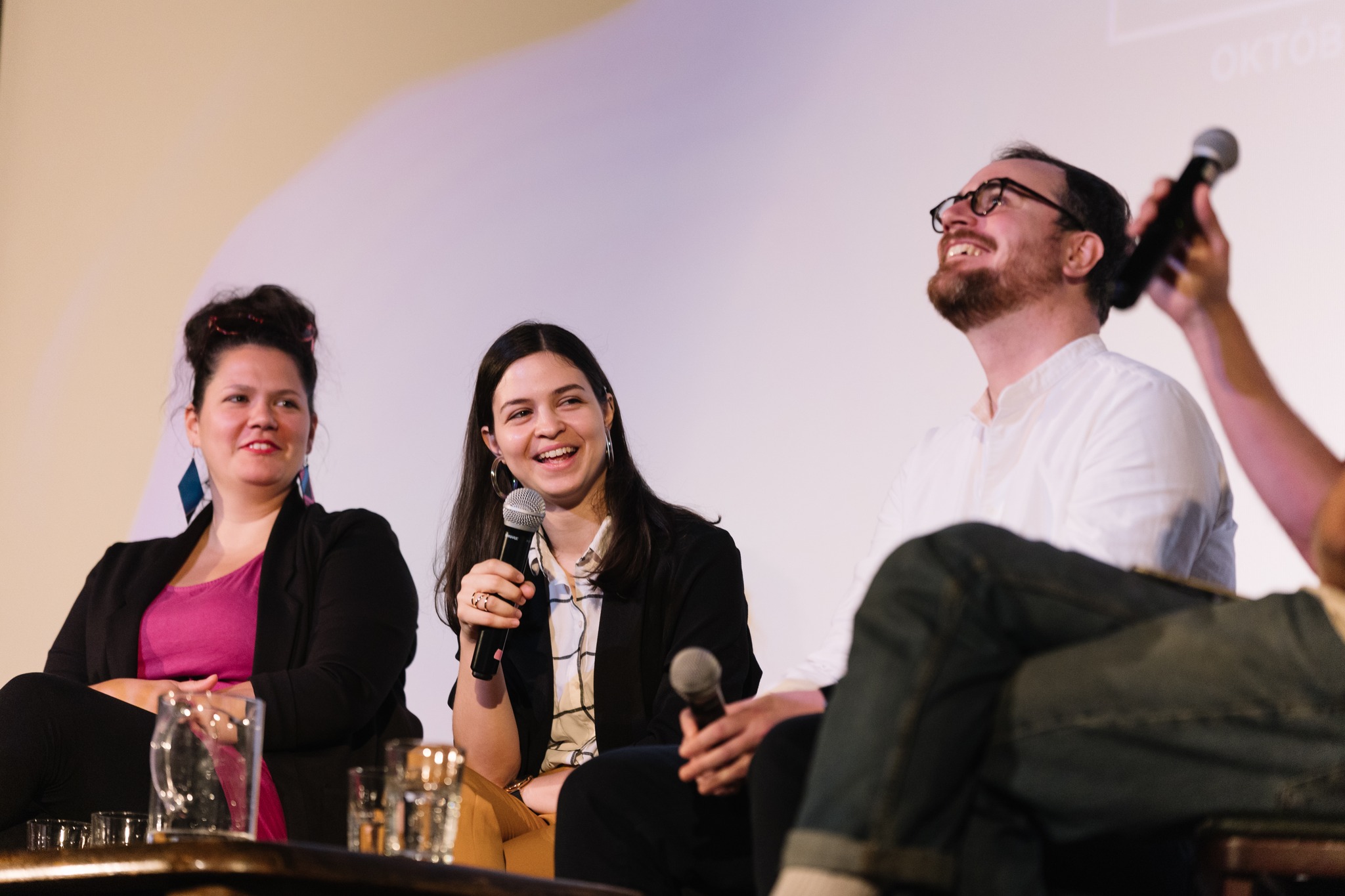 Éva Darabos, Réka Anna Szakály and Bálint Gelley at the discussion about International Success vs Domestic Opportunities.
Naturally, this year's programme couldn't have been complete without MOME films now considered classics, animations for children and the most successful works of MOME alumni. This year's Friss Kakas special feature included the premieres of three recent animation features. All three films were directed by MOME graduates, including directors Áron Gauder ("Four Souls of Coyote"), Tibor Bánóczki and Sarolta Szabó ("White Plastic Sky") and Lajos Csákovics (who, along with Marcell Jankovics co-directed "Toldi").
 The comic book, zine and print fair GRAFIX by MOME Anim students was also held this year.